The main content
Health in Joy Recipes.
This website exists at the request of friends who asked me to share the contents it contains.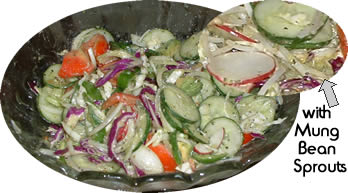 This is a salad I serve company for breakfast. Die-hard S.A.D. (Standard American Diet) folks are tortured by it. The portions of each vegetable is a guide only. I make it different every time.
1 cucumber, medium to large, thinly sliced
1 medium to large tomato, cut up
1 avocado, chunked
1 small sweet onion, thinly sliced
1 or 2 stalks of celery, chopped
1 small green bell pepper (can use several colors of bell peppers), thinly sliced
red radish (1 large or two small), thinly sliced
green and/or red cabbage (about 1 cup), thinly sliced
1 or 2 cups fresh mung bean sprouts
1 carrot, shaved thinly
raw sunflower or pumpkin seeds, 1/8 cup or a tablespoon or two (optional)
1 or 2 cloves of fresh garlic, grated
1 lemon, juiced
Spices. For breakfast I like Spice Hunters Greek spices.
Sodium of choice. I mix a good quality sea salt and Bragg amino's
Extra virgin olive oil
Put the cucumbers, onion, tomato and avocado in a large bowl, add the lemon juice, sodium, spices, garlic and olive oil and mix well. If the avocado breaks up, that is okay. In the end a ripe avocado will form as part of a creamy dressing. Add the rest of the vegetables except the mung bean sprouts and mix well. Last, add the mung bean sprouts and mix well. If necessary add more olive oil, sodium and spices.
I used to take this salad to work, putting it in the refrigerator once at work. People would beg me to make this salad for them once they tasted it.
Option: Make the salad without the mung beans if they are not available. Don't do like me and forget and leave the mung beans in the salad spinner. Print this recipe
return to top
Romaine-Jicama Salad
This is a simple, tasty salad, fast to throw together. Toss all ingredients together.
Romaine lettuce cut into thin ribbon slices. Stack the leaves on top of each other, roll them like a cigar if they are big and thinly slice. This makes ribbons of lettuce.
Grated jicama
Grated carrots
Fresh Mung Bean Sprouts
Thinly sliced sweet onion
Standard salad dressing: ½ fresh squeezed lemon or lime, extra virgin olive oil, Braggs/salt, basil or other non-salted spice of choice. Print this recipe
return to top
Raw Spaghetti
Noodles
Noodles are made from Zucchini (summer squash) using a Saladacco Spiral Slicer.
Salsa
(the Sunbeam In2itive takes out all the guessing during blending)
2 tomatoes (halved or quartered)
1 small to medium cucumber (cut up)
1 stalk of celery
1/2 bell pepper (any color)
1 small or 1/2 medium sweet onion (halved or quartered)
1 clove of garlic (bigger the better), finely grated
Fresh or dried basil, oregano, thyme or Italian spices
Bragg Amino's and/or sea salt to taste
1/4 fresh squeezed lemon or lime
1 or 2 Tbs. Extra virgin olive oil
In the in2itive blender, add all ingredients, close the lid and hit the salsa button. Stand back and watch. Pour salsa on top of raw squash noodles. Try it, you may be surprised. Leaves me feeling clean inside.
Another way to put together the mariana sauce, the method used in picture above, is to gently pulse chop the tomato in a food processor. Then shred the remaining vegetables. Pour chopped and shredded vegetables into a bowl and mix in remaining ingredients. Print this recipe
return to top
Swiss Chard Rice
1 Bunch Swiss Chard, for a colorful dish, choose bright stems in red, yellow, orange, and white

strip stems/ribs from the leaf and slice
roll leaves and cut into ribbons

1 onion, chopped
Garlic, 1 small bulb or several large, chopped
1 large tomato, chopped
1 2/3 cup brown basmati rice
1/3 cup wild rice
Sodium of choice. I used a sea salt from France and Bragg Liquid Amino's
Directions
Cook basmati and wild rice together and allow to cool somewhat
Saute onion and garlic together until lightly browned
Add Swiss Chard ribs to onion/garlic and saute a few minutes
Add Swiss Chard leaves and saute with lid on pan to wilt the leaves; the longer you cook the Swiss Chard, the less color you will have. I like to leave the ribs a bit crunchy for texture and to maintain the color.
When the Swiss Chard mixture is ready, add the rice in batches and season. I used the sodium listed above and cracked pepper.
Turn off the heat and add a chopped tomato. I used 1 regular size tomato and 1 Roma tomato. Please note that the tomato is warmed by the hot mixture, it is not cooked. Cooking the tomato would change the flavor of the dish. Cooked tomato is acidic to the body, raw is alkalizing in the body.
This colorful dish does well at potlucks. I enjoy it cold the next day. Print this recipe
return to top
Nutritious Chocolate Freezer Candy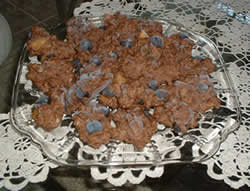 Until Integris came out with their Dutch Chocolate 7 essentials nutritional powder, I had not had chocolate for several years. Now, I can eat candy and still have a happy body, because the amount of caffeine is minimal.
2 or 3 unripe bananas — not green, just not fully ripe (unripe bananas are alkaline, ripe bananas are acidic)
puffed cereal — just plain puffed cereal — like puffed rice, puffed red wheat, puffed wheat, puffed millet
Dutch Chocolate 7 Essentials whole food supplement
A little chopped fresh or frozen fruit like: blueberries, nectarines, pears
Risotriene™
Optional:

Extract flavoring like vanilla, almond or rum
Natural Flavor 7 Essentials gives a more dense candy and a taste of cinnamon
Berry 7 Essentials gives it a chocolate/berry flavor
Chopped nuts

For a creamier candy, replace puffed cereal, fruit and nuts with raw almond butter
With a fork or potato masher, squish up the bananas and then mix until smooth. Fold in the puffed cereal and Dutch Chocolate 7 Essentials. Mix well. Add Risotriene™ and other optional powders. Fold in fruit and nuts.
Drop spoonfuls of the mixture onto wax paper lined cookie sheet. These get "baked" in the freezer. Eat them right out of the freezer, or within a few minutes or they will no longer be frozen candies. Print this recipe
Return to Top
Tators & Peas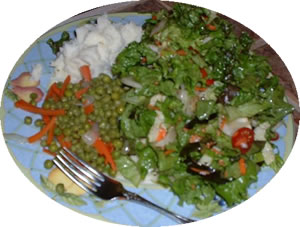 Whipped potatoes (with extra virgin olive oil instead of butter and no dairy), baby frozen peas with onion and fresh julienne carrots, and a typical salad with homemade (in the bowl) salad dressing.
I just love mashed potatoes and sweet green peas together. In the alkalarian diet, potatoes are not recommended.
The salad contains red and green leaf lettuce, sweet onions, cucumbers, red cabbage, shredded carrots, grape tomatoes, and celery. Salad dressing is ½ lemon squeezed over the salad, 1 large garlic clover grated, extra virgin olive oil and Italian spices. I prepare and mix the salad in a large serving bowl and pile on plate. Return to Top
Broccoli Salad, Chopped Style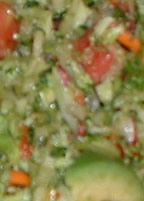 The broccoli is chopped in a food processor to a desired consistency. Sometime I make it fine, sometime coarse, or maybe a combo of both fine and coarse. I shred the other veggies in the food processor.
Broccoli, 2 or 3 stalks rinsed and stalk peeled
1 or 2 stalks celery
1 large or 2 small carrots
1–3 radishes
Bell peppers - green, red, orange, or yellow; 1 whole or ¼ - ½ of several colors
1 small to medium cucumber
Other veggies such as jicama which will sweeten it up, or yellow squash for a bit more color, can add finely chopped green onions
1 avocado
1 or 2 tomatoes
Fresh or dried basil, oregano, parsley
Bragg Amino's and/or sea salt to taste
1½ or 2 squeezed lemon or lime
Extra virgin olive oil
First chop the fresh spices such as basil and oregano in a food processor, then pulse chop the broccoli to the desired consistency. Empty the fresh spices and broccoli into a large bowl and squeeze one lemon or lime over the broccoli and mix. (This salad can be made by chopping and grating the vegetables by hand instead of using a food processor, it just takes longer.)
Shred the celery, carrots, radish, cucumber, bell peppers and other hard vegetables. Add these veggies to the broccoli and squeeze another ½ to 1 lemon or lime over the vegetables. Add Bragg Amino's and/or sea salt, and extra virgin olive oil and mix. Cover and refrigerate the salad for at least 30 minutes, or as long as 7 or 8 hours. When ready to eat, add an avocado and chopped tomato. Adjust seasoning if necessary. When I took this salad to work, I added the avocado and tomato when I prepared the salad. Print this recipe